Välkommen!
Välkommen till webbinar om hur kvalitet kan förbättras i era utvecklingsprocesser- och team genom att använda smarta verktyg och teknologier. Tillsammans med Micro Focus presenteras en serie om tre webbinar om prestandatestning, testautomatisering och DevOps Governance.
Syftet med dessa korta webinars är att visa hur ni kan påbörja och driva resan mot effektiv testning. Seminarierna visar nya arbetssätt inom testning inom respektive område.
Tid och plats
Webbinar nummer 1: Prestandatestning
Datum: 4:e juni
Tid: 09:00-10:00
Plats: Webinar, registration link to Performance Testing seminar
Språk: Engelska (English)
For additional information and questions, contact: Patric Helje, 0768-305 205
Please note that the presentation will be held in English.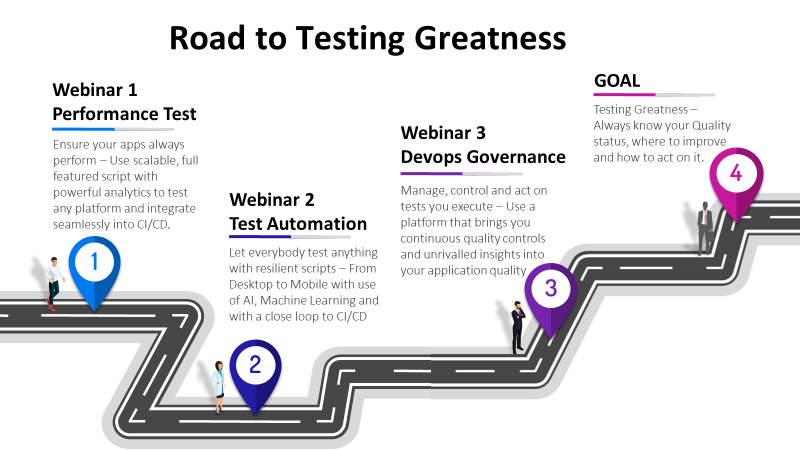 Ensure your apps always perform! Use scaleable, full featured script with powerful analytics to test any platform and integrate seamlessly into CI/CD.
Load & Performance testing is today a necessity for any company, but it more than often come with a lot of cumbersome scripting, hardware management and hidden costs.
Making use of Cloud-based performance testing can make it easy to plan, run and scale performance tests without the need to manage infrastructure and without hidden costs.
Micro Focus LoadRunner Cloud is taking performance testing to a new level, where all companies can leverage the platform capabilities no matter size or testing maturity.
Create a script, setup your test and scale to your companies needs within minutes, and take advantage of integrated network virtualization, load generation from around the world and powerful analytics and reporting.
Want to take it further; then leverage multiple integrations with monitoring tools, integrate with CI systems such as Jenkins/Bamboo to automatically run tests in the agile dev cycle, or spread out the use by letting your Developers use open source scripting tools like JMeter and Gatling to include load testing in all development phases.