Välkommen!
Välkommen till webbinar om hur kvalitet kan förbättras i era utvecklingsprocesser- och team genom att använda smarta verktyg och teknologier. Tillsammans med Micro Focus presenteras en serie om tre webbinar om prestandatestning, testautomatisering och DevOps Governance.
Syftet med dessa korta webinars är att visa hur ni kan påbörja och driva resan mot effektiv testning. Seminarierna visar nya arbetssätt inom testning inom respektive område.
Tid och plats
Webbinar nummer 2: Test automation with smart tools and concepts
Datum: 24:e juni
Tid: 09:00-10:00
Plats: Webinar, registration link to Test Automation seminar
Språk: Engelska (English)
For additional information and questions, contact: Patric Helje, 0768-305 205
Please note that the presentation will be held in English.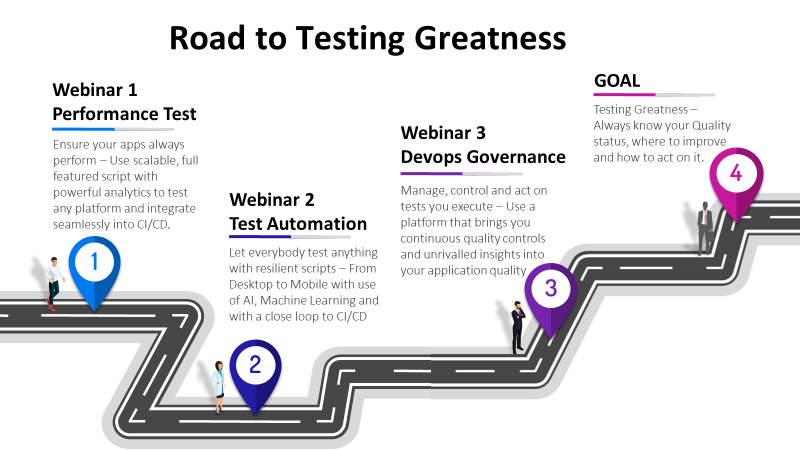 Test Automation – Let everybody test anything with resilient scripts – From Desktop to Mobile with use of AI, Machine Learning and with a close loop to CI/CD.
Test earlier and faster is today a necessity for any company, and today you must do intelligent test automation for different platforms and solutions as mobile devices, web platforms, APIs, hybrid, RPA and enterprise traditional apps and this will bring you a  high-quality multi-platform experience
Micro Focus UFT One –We deliver a high- quality multi-platform experience. Increase test automation speed and efficiency with AI-infused automated testing. Reduce test creation time and maintenance, boost test coverage, and increase resiliency of testing assets. Action-free continuous testing
Automate more than 200 technologies across mobile, web, SAP, mainframes, Salesforce, Java, PDF, Citrix, and more. Accelerates continuous testing feedback through direct integration with source control and CI/CD tools.
Run tests at scale with full parallel, cross-browser and cross-device mobile testing
Micro Focus UFT Mobile will testing simplifies the management of mobile devices and emulators. Consume devices on-premises, hosted remotely, or emulated – and manage the mobile device lab through SaaS or on-premises.
We present how to run tests at scale with full parallel, cross-browser and cross-device mobile testing
Come watch the session if you are interested in learning more about how easy, and how powerful load testing can be, if using the right tools for the job.