Robotisation, Automation and Efficiency
Robotic Process Automation
RPA is an application of technology that automates administrative tasks in workflows and processes with the help of robots. Through RPA, e.g. automation and digitization speed is increased by building, testing and delivering automated processes in days or weeks. Human interaction errors can be minimized where costs for administration can be reduced – while increasing productivity can be enabled.
For almost 20 years, we have worked with quality assurance, digitisation and automation of processes. Lemontree offers robotisation solutions to replace manual work, activities and tasks. By replacing the manual work with robots, you get a fully functional process that works cost-effectively. RPA can advantageously replace repetitive and everyday work, especially where advanced human interaction is not required. The result can be more efficiently completed work, consistent implementation and provide both cost savings and improved work environments.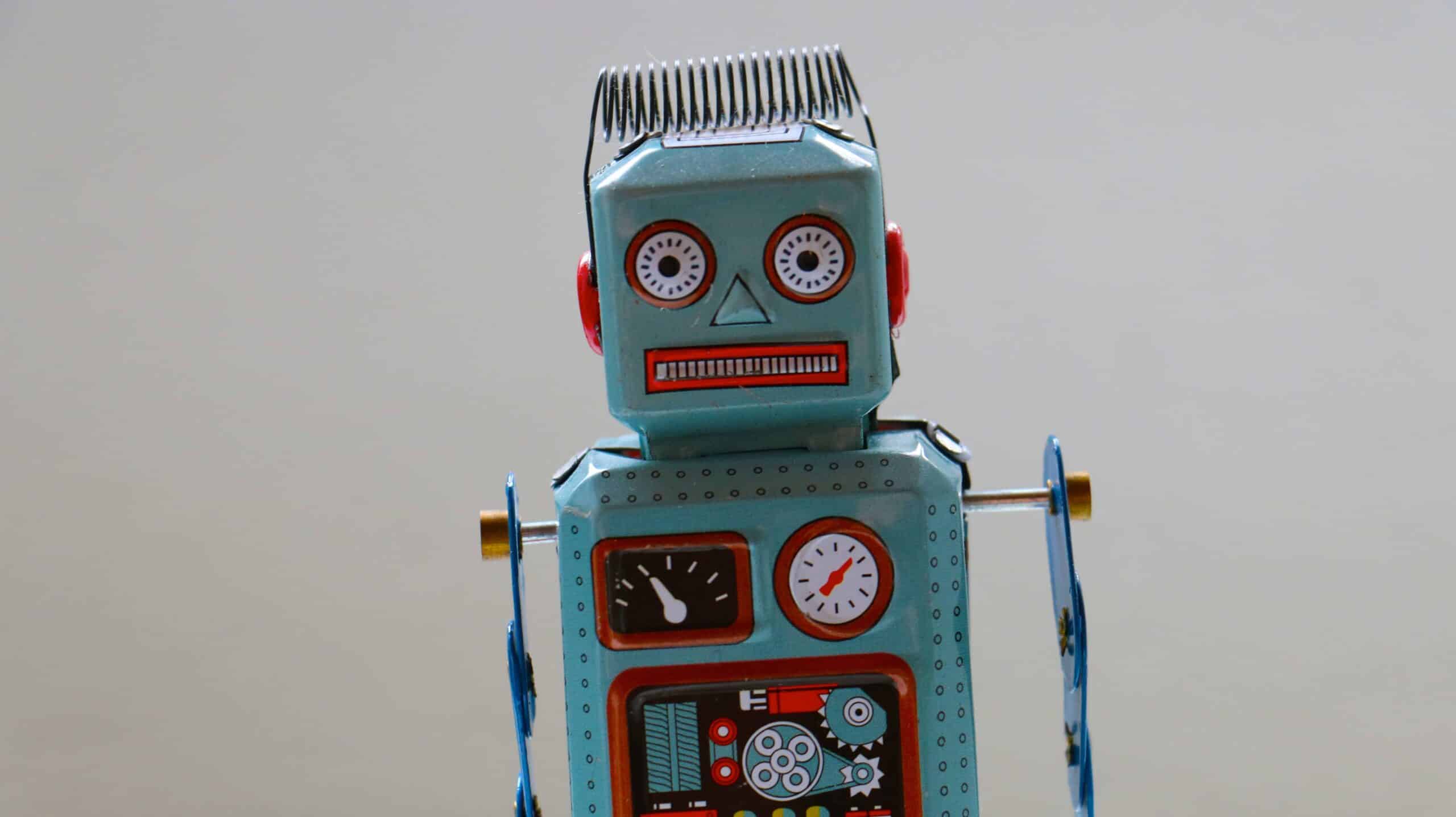 Our Consultants
Lemontree has worked for several decades with digitisation and automation of processes. We have many years of experience with technical tools and are specialist partners with several companies within RPA. For example, our consultants can assist as:
Project Manager and Requirements Expert
RPA specialists in tool support
Architects
RPA Developer
Business Facilitators
So What Can Be Automated?
Automation is capable of replacing many, if not most, user interactions in computers. The robots can e.g. log into applications, move folders or their contents, copy and paste information into fields and fill out forms. The robots can also extract information from structured and unstructured documents to be able to act with different applications and processes.
Typical Use Cases
Management of insurance processes such as customer profile updates, case management, administration of policies and renewal management of customers.
Examples of HR processes can be handling personnel matters such as benefits management, "on-boarding", system setup and authorisation management and compliance reporting.
In finance, trade and sales, example processes can be order processing, credit card processing, logistics update and invoice processing.
Other examples could be patient management in the health sector, change management in multiple systems with the same information, data cleansing in systems, compilation of lists and reports.
Founded in 2005, UiPath has quickly become one of the largest software providers for RPA solutions with over 53 offices worldwide. Within the framework of UiPath's software, the following are used:

Studio, where the automation with the robots is created. Code-free recording, drag & drop from library of available pre-designed objects. Access and ability to program with VB.net, C#, Python and Java.
Orchestrator, which is the central monitoring function and control of your robots. Your digital workforce can be monitored in UiPath Studio. Timetables and planning are managed via interface in browser or app. Real-time monitoring of what is happening.
Robot. A robot = replacing a person. Supervised and unsupervised robots perform the programmed tasks they are intended to perform. Cooperate with the robots or let them act independently.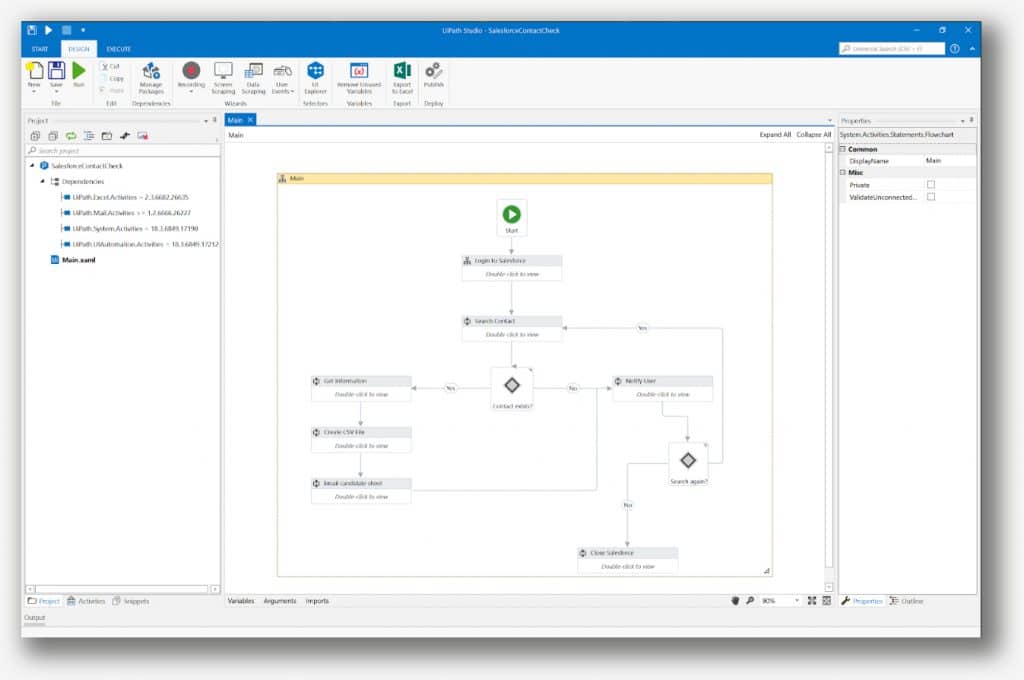 Perhaps the provider of RPA that has automated processes for the longest time. MicroFocus products build on the legacy of MicroFocus UFT (see link) used for decades to automate and interact with applications, web pages and legacy systems.
Even the MicroFocus solution is based on an "Orchestrator" to keep the robots together, where the robots can act independently or supervised.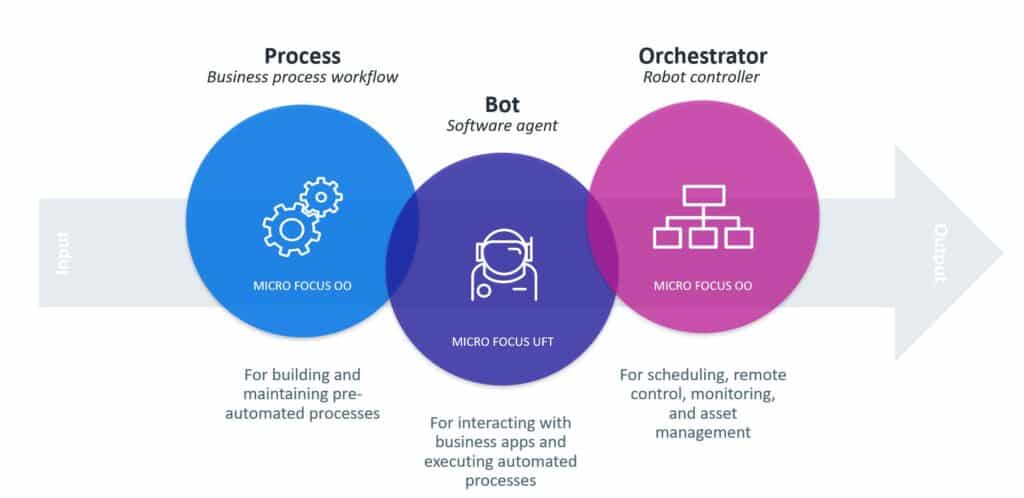 MicroFocus products UFT and Operations Orchestration automate entire flows by linking steps visually and standardising the processes through automation. With the solution, end-to-end flows can be automated with proven technology where technology components have been on the market for more than a decade. Libraries for UI, API and CLI (Command-Line Interface) are ready. User interface automation with more than 40 integrated technologies such as SAP, Web, WPF, .NET and Java.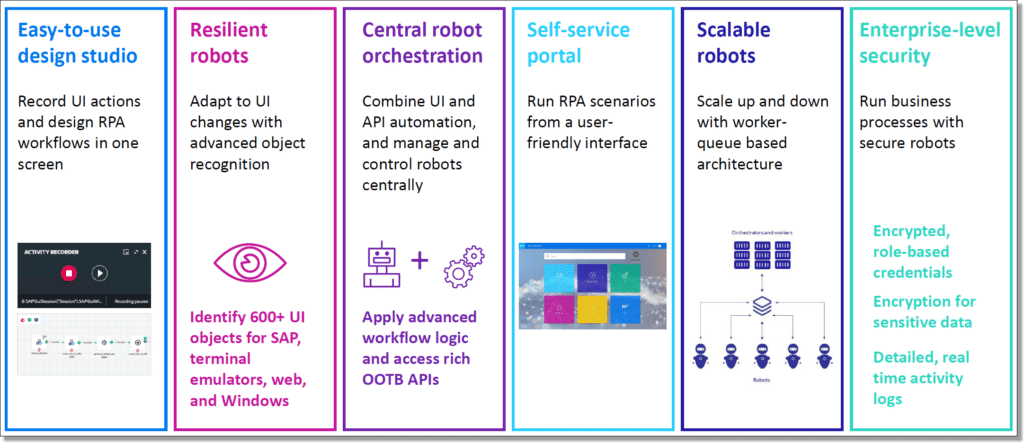 Some of MicroFocus RPA features:
End-user portal and an intuitive interface for the administrator to record UI actions and design RPA workflows, visually or with code
Combination of 100s UI apps and 1000 of workflows and APIs
Pay only for the number of bots you want to run simultaneously and with a simple licensing model where the three parts – studio, bot and orchestrator are included
The robot works even if the user interface changes
See more at the link to MicroFocus and here.