Electronic Funds Transfer at Point of Sales (EFTPOS) Testing
Lemontree offers solutions for automating QA (Quality Assurance) of payment system solutions (EFTPOS, Electronic Funds Transfer at Point of Sale) and significantly reducing testing time through the use of robots and integrated testing frameworks.
If you work with trading systems, bank IDs, Swish, card management, or payment system issuance, this could be the right solution for you.
So, what is EFTPOS testing (Electronic Funds Transfer at Point of Sale testing)? It is a technical process aimed at ensuring that the EFTPOS system operates correctly and securely. EFTPOS involves the electronic transfer of funds during purchases and payments made at the point of sale, typically using payment cards such as credit cards or debit cards.
EFTPOS testing involves testing the communication protocols used to transmit data between the point of sale and the payment system. This includes ensuring that the correct protocols are used, that data is encrypted correctly, and that communication is reliable and secure.
Tests are conducted to ensure that the EFTPOS system can handle various types of transactions, including sales transactions, refunds, balance inquiries, and cancellations. This means that the system must be able to interpret and execute various commands and actions correctly.
EFTPOS testing includes tests of the card verification system used to verify the validity of the payment card and the availability of sufficient funds to cover the transaction. This involves the system checking the card number, expiration date, CVV code, and any other verification details.
Since EFTPOS transactions involve the transfer of sensitive financial information, security is a critical part of the testing. This includes tests to ensure that data is encrypted during transmission, that the system is protected against malicious software, and that it complies with security standards and regulations.
Testing how the system handles errors is also a crucial part of EFTPOS testing. This includes tests to ensure that the system can handle erroneous cards, network issues, or other technical disruptions in a secure and reliable manner.
EFTPOS systems often need to be integrated with other point-of-sale systems, such as cash registers and inventory systems. Testing includes ensuring that these integrations work smoothly and that data is transferred accurately between systems.
Performance testing is conducted to measure how quickly and efficiently the EFTPOS system can process transactions, especially during high-load periods.
Because EFTPOS systems are frequently updated with new features or security fixes, regression testing is essential. This means that previously functional features are retested to ensure that they have not been negatively affected by the latest changes.
In summary, EFTPOS testing is a comprehensive technical process aimed at ensuring that the EFTPOS system operates correctly, securely, and efficiently in a real sales environment. It encompasses tests of protocols, transaction handling, security, error handling, integration, performance, and regression to ensure a seamless and secure experience for both businesses and customers.
'eWallet POS Payment Methods are forecast to increase from 16% to 28% in 2022.'
Through the Abrantix test robot system, you can…
Reduce test execution times through automated flows
Achieve greater test coverage
Expedite releases into production
Enhance testing precision
Integrate testing into DevOps and CI/CD workflows.
The solution supports:
Chip
PIN card testing
Contactless testing
Magnetic stripe or connection of touch devices (mobiles, tablets with buttons on capacitive and resistive screens).
Apple Pay, Samsung Pay, or Google Pay can be automated for testing!
Terminal testing can be connected via standardized REST API to existing frameworks or test setups. Integrate testing with products such as Jira, Jenkins, Tosca, qTest, Octane, or ALM.
Abrantix Terminal Testing Robot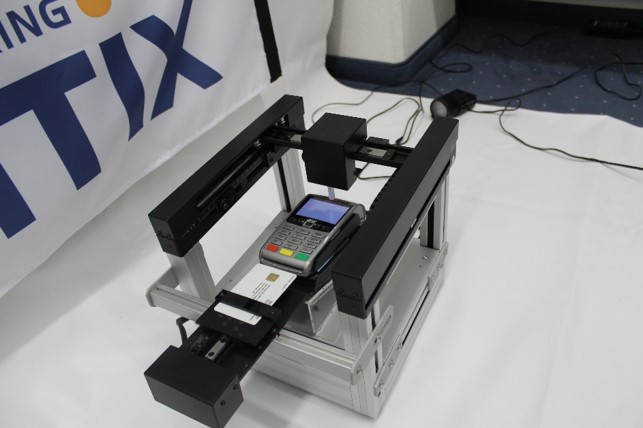 The robot easily connects to a multiplexer for resource sharing. Connection via REST API to your existing frameworks. Lockable card handling to ensure that cards do not disappear or get misplaced in your infrastructure.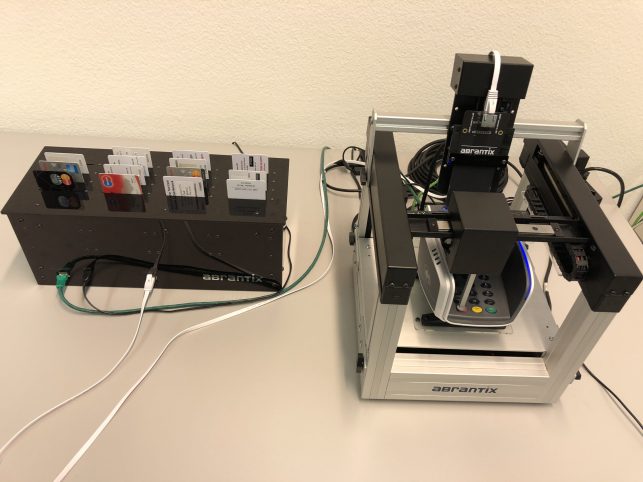 The advantages of automated POS testing:
Up to 80% automated testing of POS.
Ability to automate previously manual processes.
Elimination of bottlenecks in the testing process and increased testing throughput.
Trained staff can work on test creation, not repetitive execution, resulting in higher resource utilization.
Scalability.
Enhanced test coverage through more tests.
Repeatability.
Lower cost per test over time.
Automation can run 24/7.
Fewer manual errors.
About Abrantix:
Abrantix was founded in 2001 and is headquartered in Switzerland. The company focuses on payment solutions for card management and modern payment methods. With over 200 successful projects and solutions deployed in more than 30 countries, Abrantix's products in this area have an excellent reputation."
*Business Wire analytics report October 17, 2018
Frequently asked questions about 
Payment Solutions – EFT/POS Test Automation
Here you will find answers to the most common questions we receive from our customers. We have gathered information and solutions on various topics and issues that may arise. Whether it's technical questions, product information, or general inquiries, we are here to help you.