Teknisk Due Diligence

– "the value of software"

In order to ensure business quality when acquiring companies, there is often talk of financial and legal evaluations and analyses within the framework of a "Due Diligence" (DD). Not infrequently, software is a large and tone-setting component of what is acquired. Maybe even the purpose of the whole deal. How then to evaluate the value of the software included in a business transaction? A large number of aspects need to be taken into account to ensure that what is acquired is really worth what the deal is set at. The area is complicated and there are many dimensions of valuation..
"We offer a standardized model for evaluating the quality of software from several dimensions in addition to technology."
Assessing the value of a function that delivers software can be difficult. We have the model that helps you evaluate different dimensions of a developed software and the function that delivers the software.
How's it Done?
Our model is based on a number of steps:
Definition and delimitation of what is analysed.
Start-up meeting and planning.
Areas and evaluation documents are reviewed. Activities are carried out within the framework of the evaluation such as security, development processes, organisation, ownership, compliance with legal requirements and architecture.
Follow-up and reporting.
The service is suitable for companies that procure software companies, ownership of software or for internal evaluation at organizations that are interested in an objective evaluation of product maturity. Also read about our evaluation service for CI/CD & DevOps.
The model is not linked to specific software, products or technologies, but aims, in a measurable way, to be able to provide a current picture of the prevailing conditions, obstacles that may exist for the product's further development and recommendations on development potential.
DevOps Maturity Model
There is a lot of talk about continuous delivery, CI/CD and automation as ways to deliver products, solutions and benefits to customers and end users faster and more efficiently. Effective development methodology has become an important way to gain market share in an increasingly digitised world. It is nowadays unusual for organisations exposed to competition to be content with annual product updates, waterfall processes, static requirements and long manual test cycles as the outside world's delivery pace increases.
"We offer a standardized way to measure, evaluate and then the ideas to move forward on the automation journey."
Many organisations find it difficult to grasp the field and are also dissatisfied with their attitude to Continuous and DevOps. Perhaps after failed initiatives and programs that did not reach the desired effect or due to unclear expectations and implementation.
Maybe the Continuous journey hasn't even started for various reasons?
It is also very common for organisations to wish that they had come further and that the investments in the area had resulted in a greater effect. Unfortunately, there is no single solution, cloud service or simple product you can install that can be purchased to give the work with CI/CD & DevOps the push it needs. As a rule, changes are also required in softer areas such as team composition, ownership, escalation paths, communication and knowledge transfer.
How it's Done
Our model is based on a number of steps:
A shorter background analysis is carried out together with you to define the expected target picture in the area of ​​Continuous. There we go through any outputs you are aware of and what strategic goals you have.
We then carry out an evaluation within three dimensions of your way of working. We look at how your organisation collaborates and communicates, we review product, process and quality issues and finally we collect information about support processes, infrastructure and architecture issues.
The collected information is compiled against standardised criteria, after which we create a report that covers areas that can be easily improved, bottlenecks in development and offers suggestions for improvements that can be implemented.
By using the standardisation, the evaluation can be carried out repeatedly over time so that the measurements can be compared and thus entered as KPIs and as a basis for evaluations and investments to the organisation.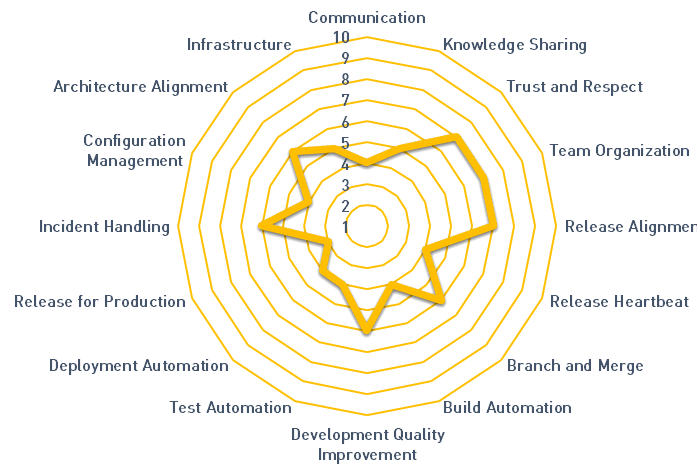 The model is not linked to specific software, products or technologies, but aims, in a measurable way, to be able to provide a current picture of the organisation's delivery capacity and what you should mainly invest in to take the next step in the journey towards continuous development and DevOps.
Contact us for consultation and advice at info@lemontree.se